What is India Abroad ?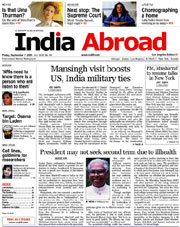 India Abroad

, is the oldest Asian Indian publication in North America. Established in 1970, India Abroad has become an integral part of the life of Asian Indians, enjoying their unstinting support and trust.


Where is India Abroad published ?

India Abroad is published, printed and distributed throughout the United States and Canada with an emphasis on the New York City metro area as well as select pockets of affluent Asian Indian communities in major cities. India Abroad is able to reach the prosperous and upscale Asian Indian market in a precise and definite manner using a combined system of paid subscriptions, newsstand sales, and complimentary copies, further insuring a total penetration into the marketplace. India Abroad is ABC Audited and prides itself on its effective and targeted reader response.

In April 2001, Rediff.com, one of India's leading Internet portals focusing on India and the global Indian community, purchased India Abroad, providing an extensive network of editorial, marketing and circulation expertise.

What India Abroad gives you every week?
A comprehensive view of international, national, and local news and newsmakers in depth
A 16 page magazine that spans the spectrum from haute couture to hot cuisine
Sports - Wickets to what went into pockets in Cricket
Bollywood - The juice from the tinsel world, back home and right here
Plenty of prospective soul mates in the matrimonial section
Classifieds that hold the key to a world of opportunity
A complete list of community events, television and theater listings.
Why India Abroad Classified ?
For the past 46+ years, Asian Indians residing in the US, Canada and Caribbean have come to depend on India Abroad for its in-depth news, unbiased reporting and six pages of classifieds.
In a nutshell India Abroad Classified Advertisements have the power to put your life on the right track; and this is no empty boast! Whether you desire a mate for life or a house to settle, or maybe a babysitter thereafter, the Classifieds are an answer to your prayer! If your company needs personnel, or wishes to sell assets, stocks, appliances, go for the Classifieds. So you have a business for sale or a business opportunity, or for that matter if you have anything you wish to publicize, the Classifieds can custom make an ad for every need. If you ask: how successful we are? The answer is: We've been around for 46+ years with an average of 200+ ads a week and we are growing!
NRIs generally nurture two dreams: To build a substantial bank balance and to own a plot of land "back home". If you wish to sell off a real estate or a business, be it a house, flat, property with orchids or commercial establishment etc., the IA classifieds is a sure shot to convert your assets into US green backs!
Why IA Matrimonial ?
IA Classifieds are your door to a great future!
You search for a life partner ends here!! Life abroad is so fast paced that many eligible bachelors just do not have the time to get hitched! They prefer to use the matrimonial with a view to striking acquaintance with some interesting alliance from their motherland - that someone who is both a professional and a home-maker - with that touch of sensitivity and culture akin to our women.
Let our matrimonial be your cupid's arrow - your aim might hit the perfect target of a dream life-partner. Prospective brides/parents of brides-to-be too prefer to seek compatible and upright matches from the homeland. In short, let's say while marriages are made in heaven, matches are made through IA.
What are the rates for placing a classified ad in India Abroad ?

REGULAR AD
The rate for a regular classified ad (without borders) is based on the number of words. The first 10 words (minimum) will cost $20 and each additional word is $2. DISPLAY AD
The rate for a display classified ad (with borders) is based on column inch in width. A one-inch column can have a maximum of 25 words and will cost $60. If you have more than 25 words, you can increase the column inch by half inch at an additional cost of $30. (12 words for each additional ˝ inch)

ALL EDITIONS
The above rates are applicable to local edition. India Abroad has five printed editions viz New York, Chicago, Dallas, Los Angeles and Toronto. If you want your ad to appear in all five editions viz New York, Chicago, Dallas, Los Angeles and Toronto, it will cost 50 per cent extra over the basic cost for one edition (which will work out to $3/ per word in all editions for a regular ad and + $30 for a one inch display ad)

NOTE: Please specify the edition you want to place your ad in, otherwise it will be published in the edition, which is distributed or mailed in your area.
What is the Bulletin Board ?
The Bulletin Board section is the back cover page of India Abroad. Because it is on the back, your advertisement will receive more attention than it might otherwise. This is because readers tend to look at the back page first before going to other sections of the newspaper. In addition, the outside part of the paper is more visible to anyone who may be casually glancing at that page.
Published in all four editions, the Bulletin Board gives your ad a national, even international reach. Red color can be added for a small fee to further enhance attractiveness. Also, you, the advertiser are given more freedom to create a category for listing ads depending on the nature of their particular product, service, etc. With display ads on the Bulletin Board, they can chose from a number of different sizes and colors, which is especially helpful if they have a particular logo or image they want to stand out.
Over the years since it was started, the Bulletin Board has continued to grow and develop, attracting a diverse group of advertisers. Among the different clients are franchise owner/operators, non-profit organizations, schools, communication services, along with individuals interested in selling or buying particular items. The Bulletin Board remains an ideal place to post your franchise availability, public announcement, educational opportunity, etc. to get the most exposure and returns for your advertising dollars.